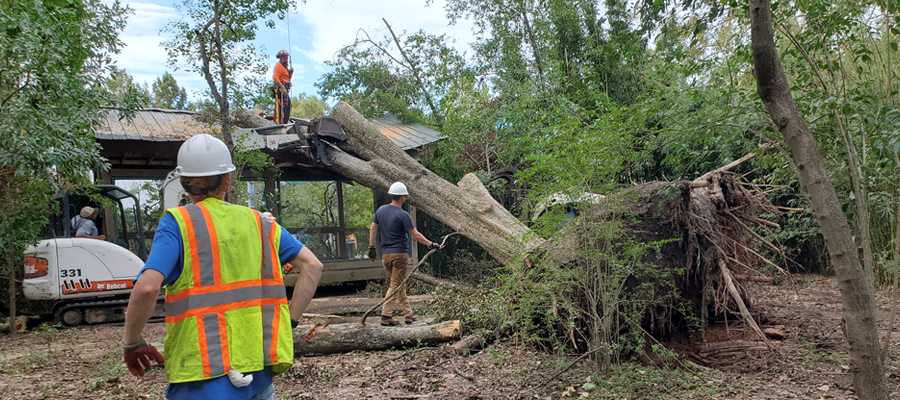 As an advocate for wildlife and wild places, Alexandria Zoo not only strives to make an impact for the animals in our care and around the globe, but to also inspire others to make a difference for wildlife.
Transformed from a small menagerie of cages in the 1920s into thematic trails with waterfalls, giant rocks, and natural landscapes, Alexandria Zoo has bloomed into a wondrous community treasure and a home and haven for both creatures great and small.
This profound transformation did not come easily or quickly. It was forged through the tireless dedication and perseverance of countless individuals. Now more than ever, we are counting on that continued support.
Hurricane Laura has taken a devastating toll on the Zoo. The cougar, cassowary, and Australian Walkabout habitats will require extensive rebuilds. The lowland anoa, Chinese alligator, iguana, maned wolf, howler monkey, muntjac, giant anteater, Andean bear, red river hog, Australian waterfowl, and cavy/agouti habitats all suffered structural damage.
Many of these habitats have been temporarily fixed to get our animals' lives back to normal as quickly as possible, but will require permanent repairs. The cougars, Jack and Diane, will be at the Baton Rouge Zoo until their habitat can be rebuilt, and others like the cassowary, howler monkey family, and Chinese alligator have been relocated into other habitats around the zoo. Another devastating casualty of the hurricane's fierce winds was the loss of countless mature trees, one of the most defining aspects of our lush, shady landscape.
Your tax-deductible gift helps us make a world of difference for our animals. With your help we will rebuild, replant, and continue roaring forward.
Alexandria Zoo accepts contributions through Friends of the Alexandria Zoo (FOTAZ). Formed in 1971, FOTAZ's purpose is to help support Alexandria Zoological Park, its animals, conservation efforts, and education programs, as well as aid in its continued development.